Our Family Coalition advances equity for the full and expanding spectrum of LGBTQ families and children through support, education, and advocacy.
Family Program Engagements
Direct Food Support & Aid to Bay Area Families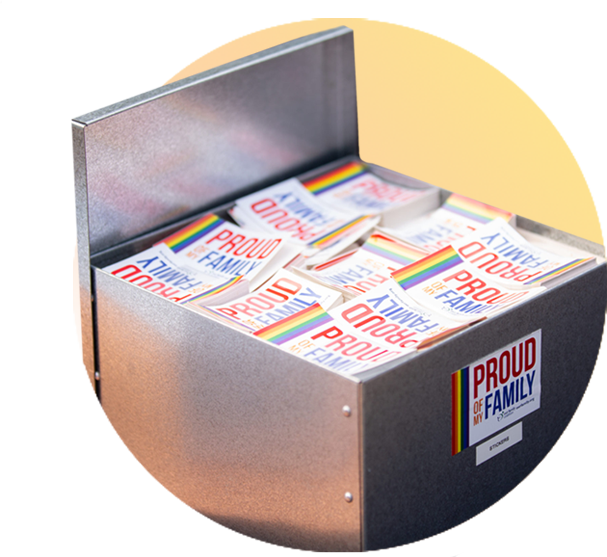 For over twenty years, Our Family Coalition has provided community-building and support for LGBTQ+ families with children, prospective parents, youth, allies, community partners, and volunteers.
We offer a wide range of programming – 250-300 events annually – including informational workshops, peer- and professional-led support groups, field trip outings, seasonal celebrations, informal meet-ups, play groups, and more in both San Francisco and the East Bay.
Our Family Coalition's Education Team works with families, teachers, administrators, and child-serving professionals to support their school communities and agencies in becoming more welcoming of LGBTQ+ families, children, and our allies.
We also work with California K-12 public school communities and education professionals as they adopt and teach the new LGBTQ-inclusive history and social science curriculum.
Our advocacy is focussed on increasing visibility and equity for all LGBTQ families. Driven by parent leadership from our own community, we work with local, state, and national partner organizations to advocate for change on the issues relevant to our families, including family equality, inclusive schools, immigration reform, and healthcare reform. In the media and in political forums, we work to improve public perception of and policy for LGBTQ families.
Over more than 25 years, we have generated or curated a wealth of information about LGBTQ+ family-building, support and advocacy for our families, resources for school communities, and more.
We keep a list of referrals to San Francisco Bay Area LGBTQ+ agencies and organizations offering support to the full and expanding spectrum of LGBTQ+ families and children.
In addition to infographics and "white papers," our publications include archival records of past print and electronic newsletters and community emails.
2021 Community needs assessment
Do you have a story to tell about your family, or your family-building journey? Share that story with us here, and we'll publish it on our blog.
Posts can be anywhere from several dozen words accompanying a photo you love, or a story or essay that runs 250, 500, or even 1,000 words.
Explore Our Community Through Photos" – Our community photos page is a collection of images that offers a glimpse into the diversity and richness of our community. From joyful events to poignant moments, these photos reflect the spirit and character of our members. We invite you to take a look, immerse yourself in our community, and feel free to share your favorites with others.