2021 Community needs assessment
Community Announcements and Policy Briefs
Fact sheets & infographics
This multi-page PDF includes infographics addressing all those questions, plus two pages of resources that can help support learning and action, including age-appropriate book recommendations, online resources from other great sources like the ACLU, Coleman Advocates, Community Works West, Impact Justice, NPR, and more.
What is the school-to-prison pipeline and how does it affect our youth?
How do police operate in schools and how can we change this relationship?
Why should we divest from police and how can this help our community?
What is restorative justice and how can we build and maintain community?
How do we talk to kids about race and how does this intersect with LGBTQ identity?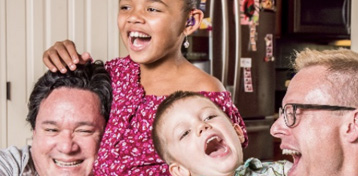 Working with LGBTQ Families
We created a resource for the US Department of Health & Human Services' National Resource Center for Healthy Marriage and Families, intended to provide service providers a concise, culturally conscious, research-based, and footnoted guide to who LGBTQ families are, and what impacts ours and our childrens' well-being.
California LGBTQ Families in 2017: Challenges and Opportunities
In 20017 we presented this synopsis of the challenges and opportunities facing California LGBTQ families, at Equality California's annual Fair Share for Equality convening. Following detailed and footnoted synopses of issues such as economic vulnerability, healthcare status, school climate, we offer a half dozen recommendations for positive change.
Diversity Practices for Distance Learning 2020-2021
Help your child's school support LGBTQ-inclusive and anti-bias online learning environments using this fantastic resource developed by OFC in collaboration with our colleagues at ONE Archives.
Annual reports & impact sheets
Powered by community, inspired by love
We do so much together! What we did, in numbers.
Events, trainings, unique accomplishments, and more: the year in numbers.
Events, trainings, projects, pathbreaking accomplishments and more: 2017 in numbers.
On the occasion of our 20th Anniversary, we gathered a 26-page report detailing our work, our funding, our values, our revenue, our future, and more.
Please contact us with suggestions for additions or revisions to this list.
Below is a collection of general information, developmental milestones, and some COVID-specific supports for a range of ages and stages of childhood and youth, as well as some general parenting resources.
Connect with our community!
Individual community members and fellow non-profits: we'd love to include your event notice in our next monthly E-news & events! Check out the guidelines and submission form.